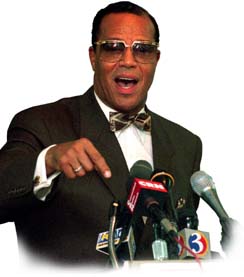 Will somebody please shove a giant dick into this lunatic's mouth! Good grief did Hillary arrange this madness. ...I hears she hired the hall. Swell, Obama's insane pastor goes on a tear. He piss's on the country, Obama, and the universe with his demented 1970's "Blaxpolitation hate sermons".
Yes comrads black people can be stupid, supersitious bigots like everyone else. The unfortunate Rev. Wright proves it everytime he manages to get that giant honking cock out of his mouth.
(Ahem,...nothing wrong with "Honking big Cocks btw,..umph!)
Perhaps super glue or maybe steel clamps or better yet maybe we can weld his go-ddammned trap shut for the frigg'n duration. Com'on there has to be some footage 'somewhere' of him butt fucking choir boys that we can put on youtube.
(Nothing against butt fucking or choirboys either, but ya see what I means here.)
Crap! Will this endless fucking awful primary pleeeese stop!
Hillary you greedy demented She-Devil! 2/3's of da Amerikan people hates ya guts. You will 'never' be Empress so,..Fuck da Hell off!
...and take that lying, two timing, booze hound of a husband with you!!
McCain you old loon step up to the plate, and do your worst. Maybe after his landslide victory President Obama will appoint you to our consulate in Hell.
Dammit let's just get this damned thing overwith so we can get on with the 21st Century finally!!
'Course I mean all of the above in a nice way.